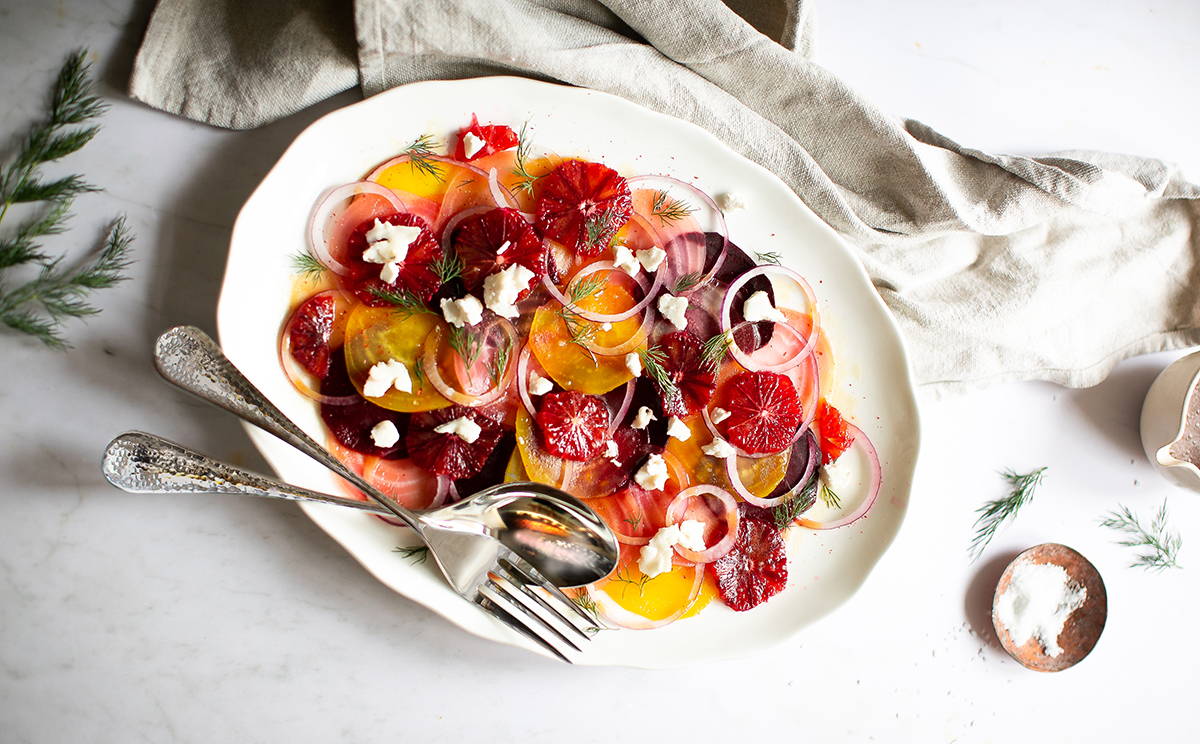 BEETROOT CARPACCIO WITH AN ORANGE BALSAMIC VINAIGRETTE
A colourful combination of sweet and tangy flavours.
---
COOKING TIME:
Preparation - 15 minutes
Cook - 30 minutes
---
For the carpaccio  
- 3-4 fresh whole beetroot, a selection of varieties and colours
- 1 red onion
- 1-2 blood oranges
- Soft goats cheese or similar. Approx. 100g
- Small handful of fresh dill
- Seasoning
For the vinaigrette
- 4 tbsp of olive oil
- 1 tbsp balsamic vinegar
- 1 tbsp runny honey
- 2 tbsp fresh squeezed orange juice
- Seasoning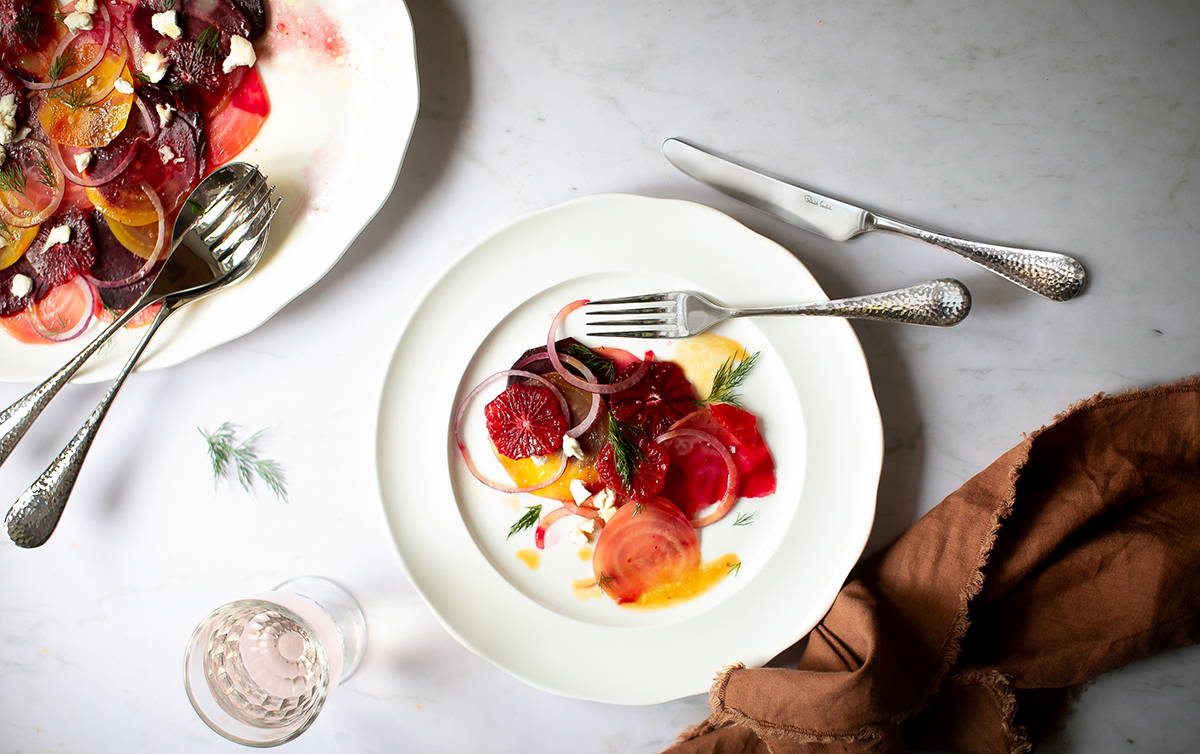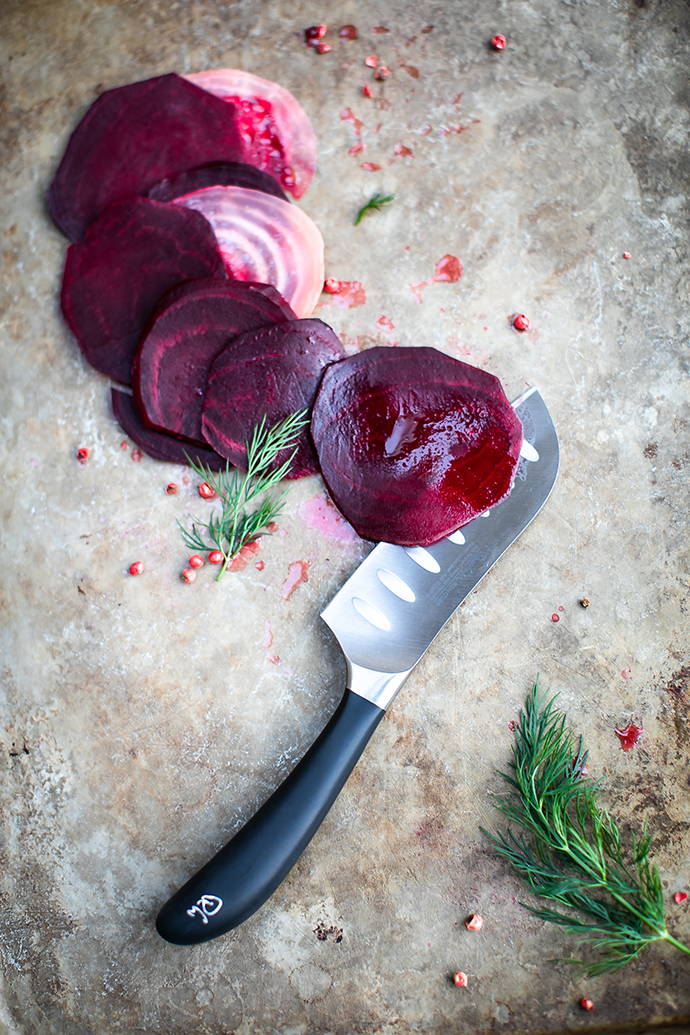 1 - Bring a large pan of salted water to the boil. Scrub the beetroot and leaving the skin on, place each carefully into the boiling water. Allow to boil for 30 minutes.
2 - Meanwhile, prepare the other ingredients. Peel the skin away from the onion. Using a mandolin or a sharp knife, thinly slice the red onion, keeping it whole while you slice so that the onion slices create rings. Put to one side.  
3 - With a sharp paring knife, cut the peel away from the oranges, trying to cut away as much of the bitter white pith as possible while keeping the orange whole. Slice into discs. Put to one side with the onion.
4 - When the beetroot has cooked, carefully remove from the water with a slotted spoon.  
5 - Allow to cool slightly until it is easy to touch. Using your fingers or a paper towel, gently rub away the skins. If the skin is a little tough to remove then cut away with a paring knife.  
6 - Cut away and discard the ends and then cut paper thin slices/discs of beetroot. You can use a mandolin or a very sharp knife for this but try to get the slices as thin as possible.  
7 - If using a variety of colours try to keep the lighter beetroot away from the deep purple ones which will spill their colour onto anything they touch so keep them in a separate container until ready to assemble the carpaccio.  
8 - Make the vinaigrette. In a jam jar, lidded container or bottle, mix all the ingredients together by shaking briskly until all combined.
9 - Plate up the carpaccio by first layering the beetroot and onion on a dish or platter. Add the orange slices and scatter fronds of fresh dill. Tear small pieces of goats cheese and dot amongst the beetroot, orange and onion. Drizzle over the vinaigrette and add seasoning to taste.
NOTES
- Regular oranges or pink grapefruit can be used instead of blood oranges.
- For a vegan alternative, omit the goats cheese or use a vegan substitute. Add agave nectar instead of honey in the vinaigrette.  
- Any leftover vinaigrette can be stored in a lidded jar in the fridge for up to a week.  
- To compliment the colours of this dish, consider using freshly ground pink peppercorns and peruvian pink sea salt to season.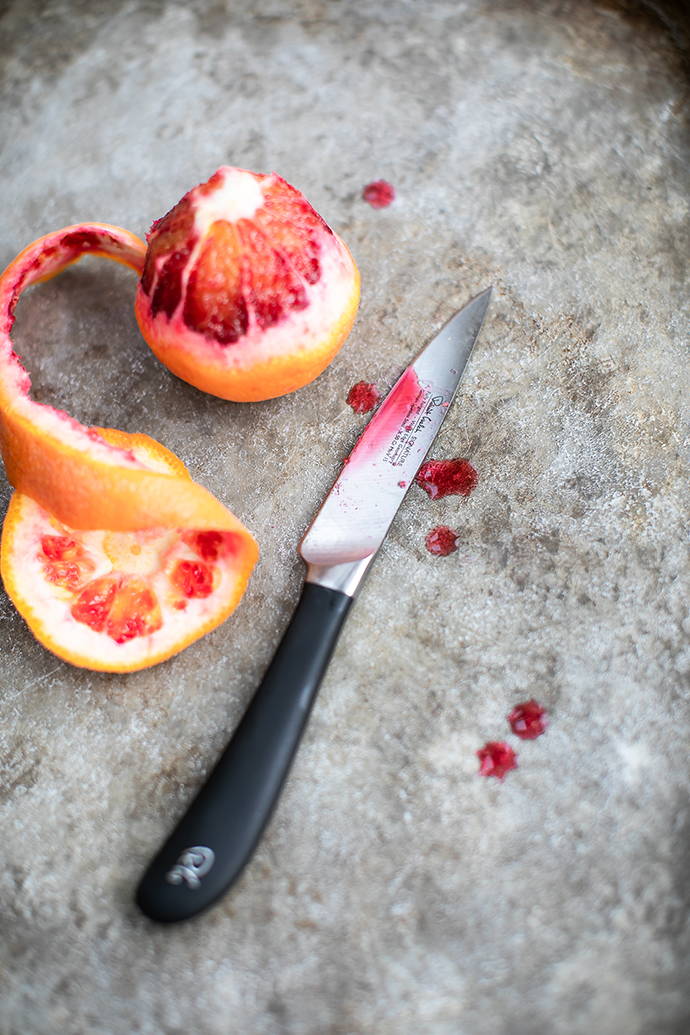 ---