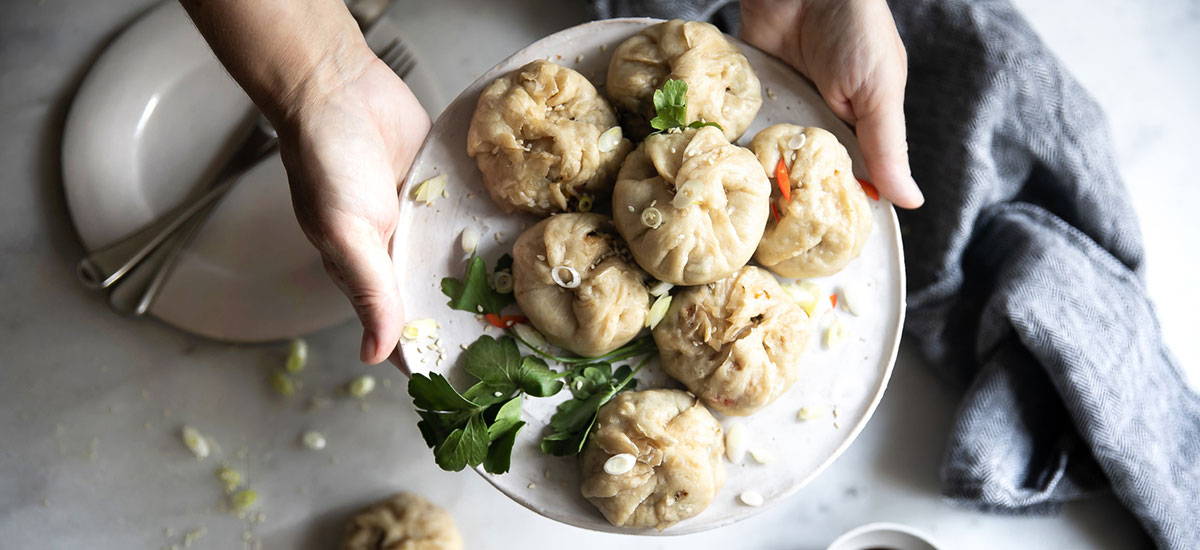 PAN FRIED VEGGIE BAO BUNS
If you love dumplings like gyoza, you will also love these pan-fried steam buns stuffed with a sautéed vegetable mix as a delicious filling.
Further proof that delicious, nutritious, and easy-to-make lunches are possible, these buns make a beautiful crunchy snack as well.
Packed full of fresh, vibrant ingredients, this meal is an explosion of flavours and a guaranteed family pleaser.
---
SERVES:
4-6
Makes 8 large buns or 16 small buns
COOKING TIME:
45 minutes prep + resting time
Cook - 10-15 minutes
---
For the dough:
- 300g plain flour
- 7g sachet of quick dried yeast/ 14g fresh yeast 175ml lukewarm water
- A pinch of sea salt
For the filling:
- Two carrots, peeled and thinly sliced into strips Half a kohlrabi, peeled and thinly sliced into strips 1 red pepper, thinly sliced
- 2 Spring onions, thinly sliced
- A large handful of cabbage/ spring greens leaves, thick stalks discarded, thinly sliced
- 2 Cloves of garlic, peeled and finely chopped
- A thumbnail piece of fresh ginger, peeled and finely chopped 1 small can of sweetcorn (approximately 300g)
- 20g dried shiitake mushrooms, rehydrated with water
- 1-2 tbsp of sesame oil for frying 2-3 tbsp of Soy sauce
- 1-2 tbsp of water or use the mushroom water after rehydrating Seasoning
For the dipping sauce:
- 1 tbsp sesame oil
- 2 tbsp soy sauce
To serve:
- Sesame seeds
- Sliced spring onion
- Sliced fresh chilli
- Fresh parsley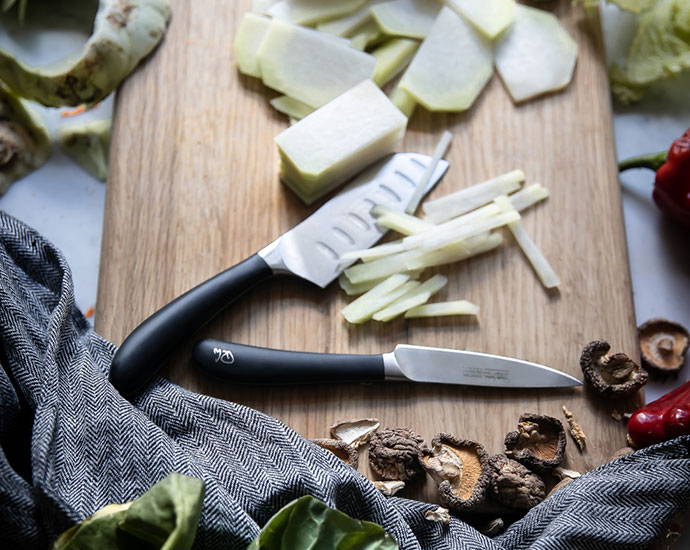 1 - Make the dough. Mix the flour together with the yeast and salt. Add the water and use your hands to mix and form a rough dough.
2 - Knead the dough for a few minutes until it forms a smooth ball. Sprinkle some flour back into a large clean bowl and cover with a damp tea towel and place in a warm space for approximately 1-1½ hours until risen and doubled in size. While the dough is proving, make the filling.
3 - Chop all the vegetables and combine all but the spring greens into a bowl. Stir through the sweetcorn and ginger and garlic.
4 - Remove the rehydrated mushrooms, putting the bowl of mushroom water to one side. Chop the mushrooms and add to the bowl of mixed vegetables.
5 - Heat the sesame oil in a frying pan and add the mixed vegetables. Stir fry for a few minutes then add the sliced greens, the soy sauce and 1-2 tbsp water or if using, the mushroom water. Fry through for a few more minutes then pour back into the bowl and put to one side to cool.
6 - Scrape the dough from the bowl onto a floured surface and knead gently for a minute or so. Roll the dough into a long sausage shape. Using a sharp knife, cut in half. Then cut each half into half and so on until there are 8 even slices, for 8 larger buns or 16 smaller slices for smaller buns.
7 - Roll each slice into a ball and leave to prove again, under a damp tea towel for another 20 minutes.
8 - To assemble the buns, flatten a dough ball under the palm of your hand into a pancake shape. Then use a small rolling pin or glass jar to gently roll the edges of the pancake, keeping the middle thicker. Keep a small bowl of fresh water nearby to help seal the edges. Place the pancake in the palm of your hand and add a few teaspoons of filling into the centre, being careful not to overfill. Draw up two edges and join so they overlap over the filling. Dip fingers into the bowl of water to seal the edges together, then draw up the other two sides, turning the bun and pinching/gathering the dough as you go until the filling is fully encased. Pinch the dough closed at the top.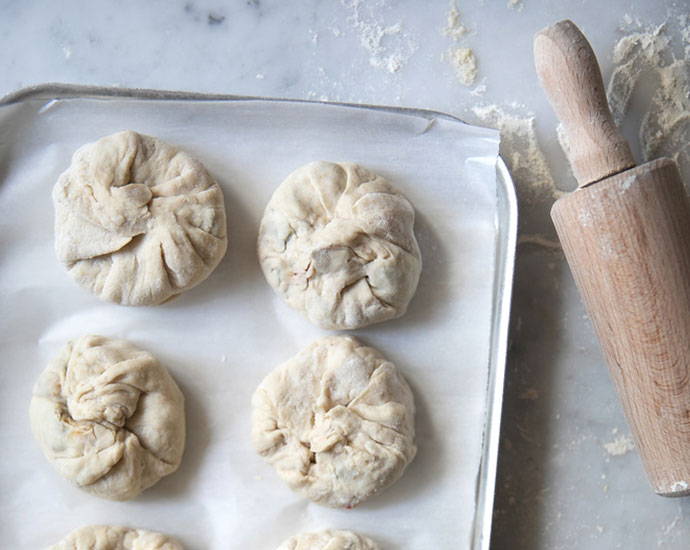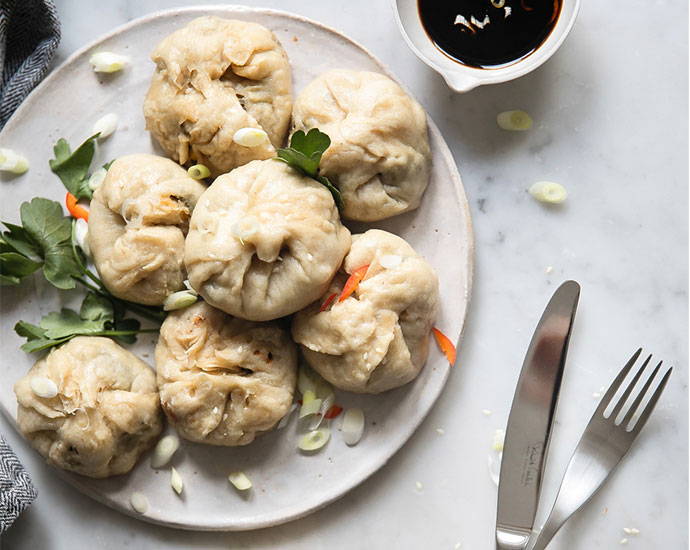 9 - Put the buns onto a baking tray and cover with a damp tea towel to stop them from drying out while you make the rest.
10 - When ready, warm the sesame oil in a frying pan. Pan-fry the buns in batches. Carefully place 4-6 buns, depending on size, into the hot pan and fry for about 5 minutes until the bottoms are golden and crispy. Add 100 ml of hot water to the pan and place a lid over the top to allow the buns to steam. Keep the lid on until the water has evaporated, about 5-10 minutes. Remove the lid and scatter a tablespoon of sesame seeds, if using, into the pan for a minute or so.
11 - Remove the buns with a slotted spoon, keep warm in a low oven or allow to cool before serving.
12 - Mix the oil with the soy sauce in a small dish. If using, add some of the chopped chilli.
13 - Place the buns on a plate, scatter over some sliced spring onions, chilli and some more sesame seeds. Add a garnish of fresh parsley or coriander.
---
OUR VEGETARIAN STEAMED BAO BUNS ARE
• Suitable for Vegans
• Dairy-free
• Filled with nutritious vegetables
• Flavoursome
• Healthy
• Perfect fit for any course meal
---
Notes:
- You can substitute any of the vegetables for the filling with whatever you have to hand. Chop thinly and make sure any excess water is drained before using. Leeks, beansprouts, courgette or frozen peas would all work well.
- Fresh mushrooms can be used instead of dried. Use a handful, roughly chopped. Fry these first for a minute before adding the other vegetables.
- The uncooked buns can be frozen. Open freeze for one hour then transfer to a freezer bag or box. Cook in the same way from frozen allowing just a minute or so more to cook through.
Recipe by Sarah Hemsley | A Slow Gathering
---