ROSEWATER PAVLOVAS WITH VANILLA CREAM & SUMMER CURRANT COMPOTE
A spot of baking is one of our favourite ways to make the most of the flavours of summer. If you are getting the family together, it's always a good idea to have a few recipes under your belt that you can make in advance so you're not spending all your time in the kitchen the next day. Created for us by Sarah Hemsley | A Slow Gathering, this pavlova recipe is an absolute summer show-stopper.
---
COOKING TIME:
Preparation - 45 mins
Bake - 1hr 30mins + 30mins cooling
---
For the meringues:
- 4 ( 150g ) large egg whites, reserving the egg yolks for the vanilla cream
- 300g caster sugar
- 1 tsp of rose water
- 1 tbsp of icing sugar to dust ( optional )
For the vanilla cream:
- 4 egg yolks
- 350ml of milk
- 80g caster sugar
- 1 vanilla pod, sliced down the middle or 1 tsp vanilla bean paste/ vanilla extract
- 20g cornflour, sifted
For the currant compote:
- 250g of white/black or red currants
- 75g caster sugar
- 1 tsp freshly squeezed lemon juice
- 1 tbsp of water
To serve:
- A handful of fresh or frozen currants
- Edible flowers such as rose petals, violas or lavender
---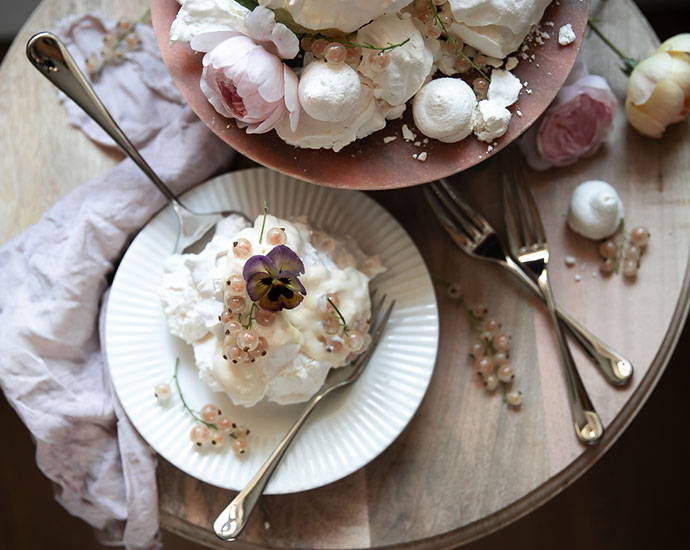 1 - Preheat oven to 110ºC Fan
2 - First make the pavlovas. In a large clean bowl, whisk the egg whites until thick and frothy using a free standing mixer or handheld beaters.
3 - Gradually add the caster sugar, a tablespoon at a time and continue beating until the mixture becomes thick and glossy and forms stiff peaks. Stir in the rosewater.
4 - Spread a sheet of baking parchment over a baking sheet on which to dollop spoonfuls of meringue into a cloud/droplet shape. You should get 4-6 small pavlovas from this mix depending on size - 2-3 heaped tablespoons approximately for each one. Lightly smooth over any overtly jagged edges but try not to overdo this, you're aiming for a pillowy cloud shape.
5 - Place into the preheated oven. Bake for approximately 1 ½ hours. The meringues should be an eggshell colour and be crisp on the outside. Turn off the oven but leave the meringues inside, leaving the door ajar for approximately 30 minutes. This allows the meringue to dry out slightly.
6 - While the pavlovas are baking, make the vanilla cream. In a bowl, using a hand whisk, beat together the egg yolks with the sugar until thick and creamy. Add the cornflour, ensuring it is fully combined into the mixture.
7 - Add the milk and vanilla pod or extract to a pan and warm over a low heat, slowly bringing to a boil. If using vanilla bean paste I find this easier to whisk into the egg yolk mixture first. When the milk begins to boil, remove the vanilla pod, if using, and pour over the yolk mixture, whisking all the time.
8 - Return this to the pan over a moderate heat to a gentle boil continuing to stir for a few minutes. As soon as the cream has begun to thicken, remove from the heat and pour into a clean bowl to cool. The cream will set when cool. If the cream is a little too set once ready to use then stir a little cold milk in until the right consistency is achieved. If the cream is a little lumpy then press with a spoon through a sieve into the bowl.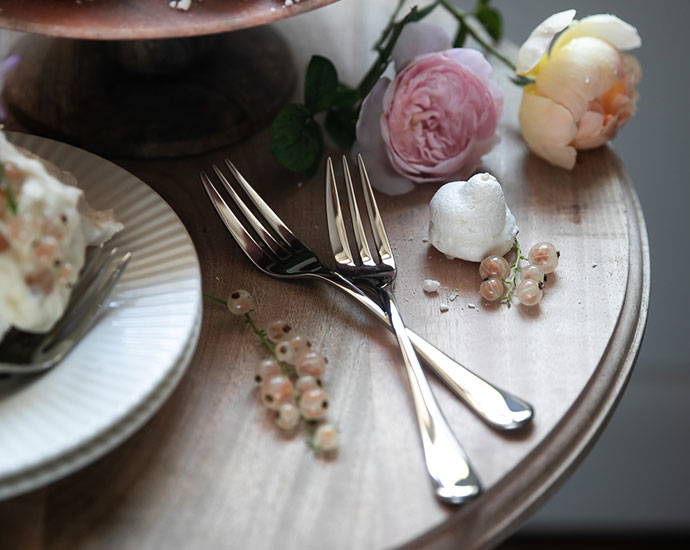 9 - Place a disc of greaseproof paper directly on top of the cream to stop it forming a skin and place in the fridge to chill.
10 - To make the currant compote, wash the currants, remove from their stalks and add to a pan with the water and lemon juice. Bring to the boil then reduce to a simmer until the fruit begins to break down. Add the sugar, stirring once then allow to simmer away until the sugar has all dissolved and the compote has thickened. Pour into a clean jar or container and allow to cool down. It will set more when it has cooled down. This can be stored in the fridge once cool.
11 - To assemble, pile the pavlovas onto a cake plate, dust with a sprinkling of icing sugar and drape the currant stems over the peaks of meringue, scattering the edible petals over for decoration. Serve the vanilla cream and compote in separate bowls and invite your guests to make their own pavlovas.
Notes:
- All parts of this recipe can be made a few days in advance and effortlessly assembled on the day. The pavlovas can be stored in an airtight container when made, the compote and vanilla cream can be stored in the fridge, both of these can also be frozen for up to 3 months.
- If you are low on currants then try adding some other fruits to supplement this.
- Gooseberries work well with whitecurrants. Red and blackcurrants go well together and also work well with strawberries, raspberries, blackberries and blueberries.
- Try adding a splash of Elderflower Cordial or Prosecco to the compote in place of the water if using whitecurrants or a splash of Cassis Liqueur or Grand Marnier if using red or blackcurrants.
- If pushed for time you can also use shop bought creme patissiere or custard instead of the vanilla cream. Alternatively, use fresh whipped double cream instead.
---