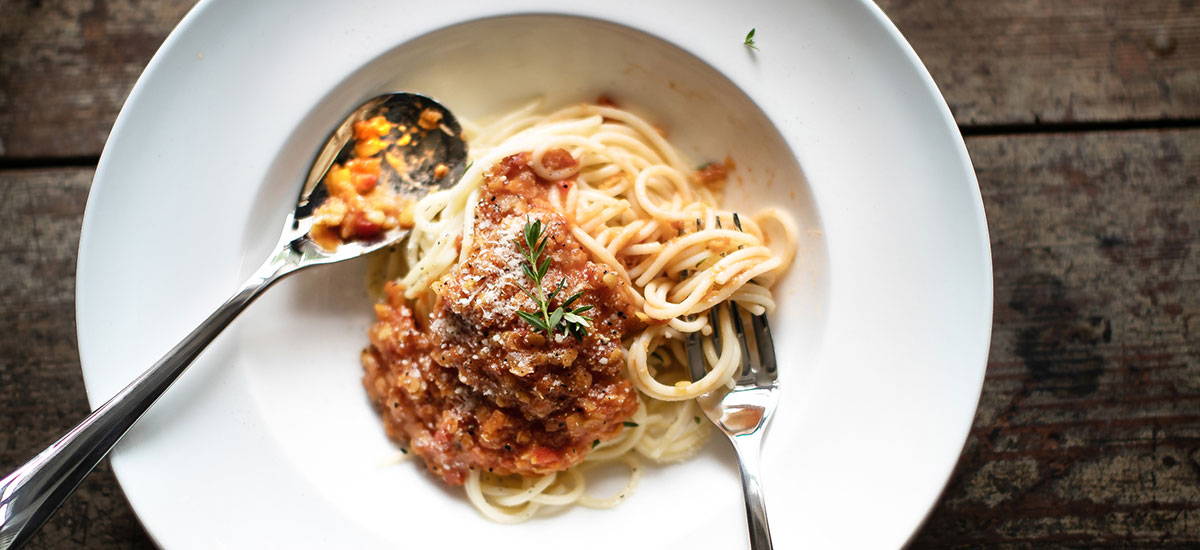 SPAGHETTI WITH LENTIL RAGU
A rich and hearty vegan spaghetti with lentil ragu recipe.
Quick to make, this is the perfect midweek meal that's tasty, healthy and comforting.
---
COOKING TIME:
Preparation - 20 minutes
Cook time - 30-40 minutes
---
- 500g dried spaghetti pasta


For the ragu:
- 2 tbsp of rapeseed oil
- 450g of dried red lentils
- 1 onion, peeled and finely diced
- 2 sticks of celery, finely diced
- 1 red pepper, deseeded and finely diced
- 2 carrots, peeled and finely diced
- 2-3 cloves of garlic, peeled and finely diced
- 2 tins of chopped tomatoes
- 1 litre of bouillon stock / veg stock
- 1 heaped tbsp of tomato puree
- 2 tbsp of balsamic vinegar
- A few sprigs of fresh thyme
- Seasoning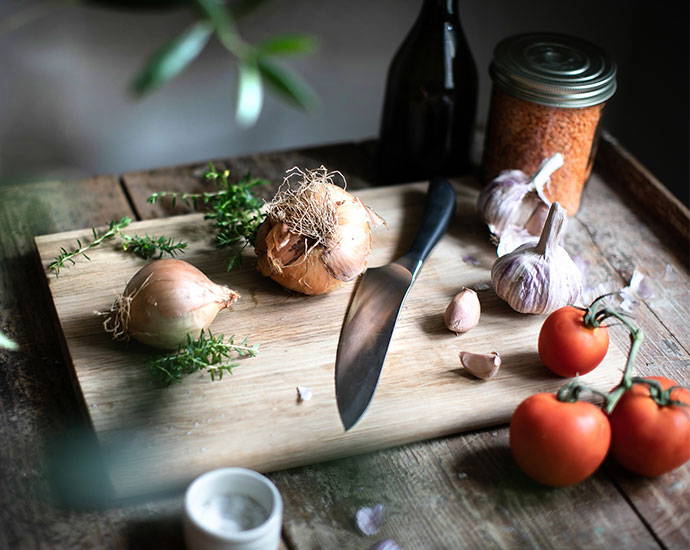 1 - Heat the oil in a large pan over a moderate heat. Add the diced onion, garlic, celery, carrot and pepper and stir though for 10 minutes until the veg is softened.
2 - Add the dried lentils along with the tinned tomatoes, puree and stock. Simmer for 20-30 minutes, stirring often to avoid the lentils sticking to the bottom of the pan. Add a little more hot water if looking too stodgy and keep a lid on the pan when not stirring to keep the liquid from evaporating. Stir through the balsamic vinegar, scrape the leaves off the thyme sprigs and add them to the pan with a pinch of salt and pepper.
4 - While the ragu is simmering, bring a large stock pan of water to the boil with a pinch of salt. Add the spaghetti and cook through for 15-20 minutes.
5 - Drain the spaghetti, retain a little of the cooking water and add a little to the pan of drained spaghetti, stir through to stop it from drying out.
6 - Plate up with a large spoonful of spaghetti and top with the ragu. Add a sprinkling of fresh thyme leaves, freshly ground pepper and grated parmesan or similar.
Sarah Hemsley | A Slow Gathering 2020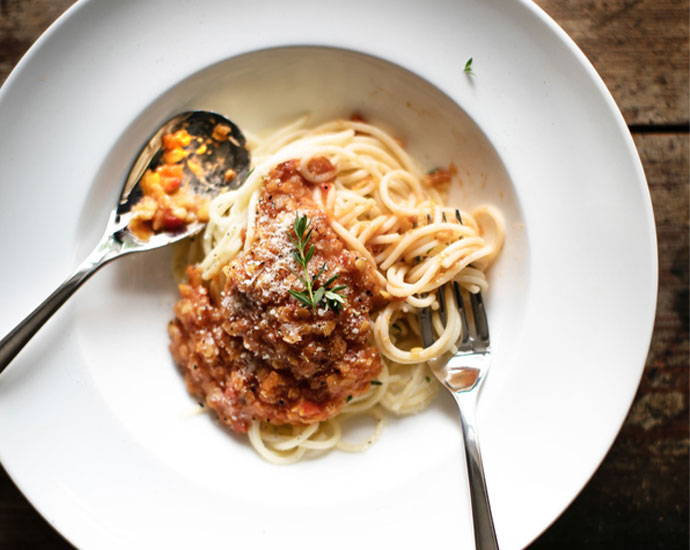 ---
NOTES:
The ragu will taste even better the next day so can be made ahead and kept in the fridge for a few days, alternatively it can be frozen. If freezing, defrost thoroughly before warming though in a pan.
Dried herbs will work well in the ragu in place of the fresh thyme. Alternatively, use other herbs such as parsley or basil. If adding these more delicate herbs to the ragu then wait to stir though towards the end of cooking to keep them as fresh as possible.
Substitute the spaghetti for other types of pasta such as tagliatelle, pappardelle or penne.
---