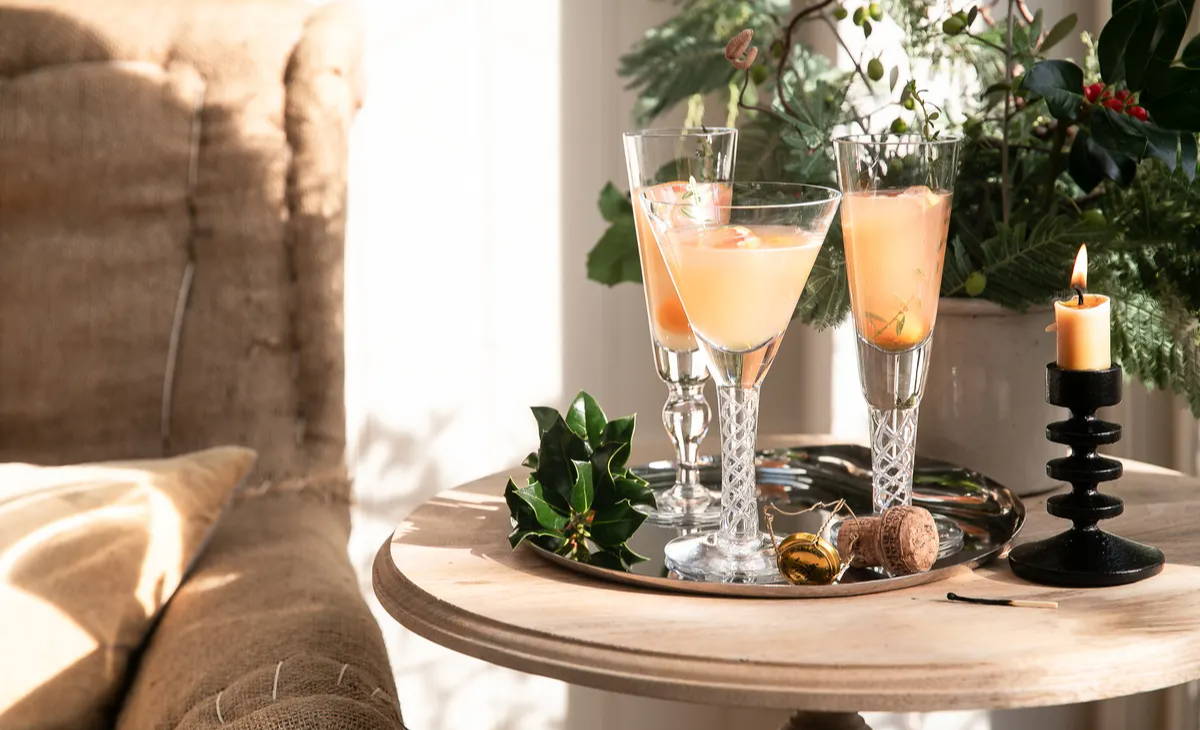 Mix up the perfect holiday cocktail with this invigorating citrus blend.
---
COOKING TIME:
Prep - 10 minutes + 1 hour to macerate
Cook - 10 minutes + 20 minutes to cool
---
For the simple syrup:
- A handful of fresh rosemary & thyme
- A mixture of peelings from approximately 3-4 citrus fruits, such as orange, lemon, grapefruit, clementine, blood orange, bergamot etc.
- 250g granulated sugar
- 250ml water
- Grapefruit juice, freshly squeezed or from a carton
- Champagne or prosecco
To decorate:
- Sprigs of fresh rosemary or thyme
- Fresh or frozen kumquats
- Grapefruit slices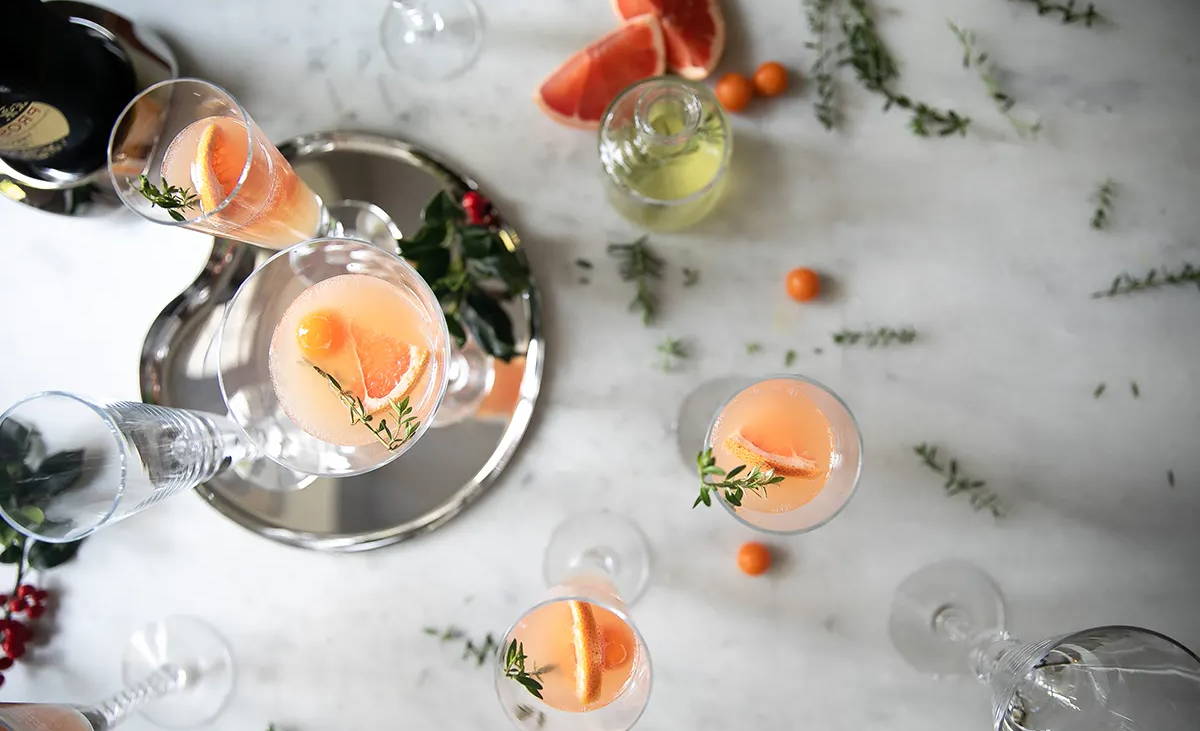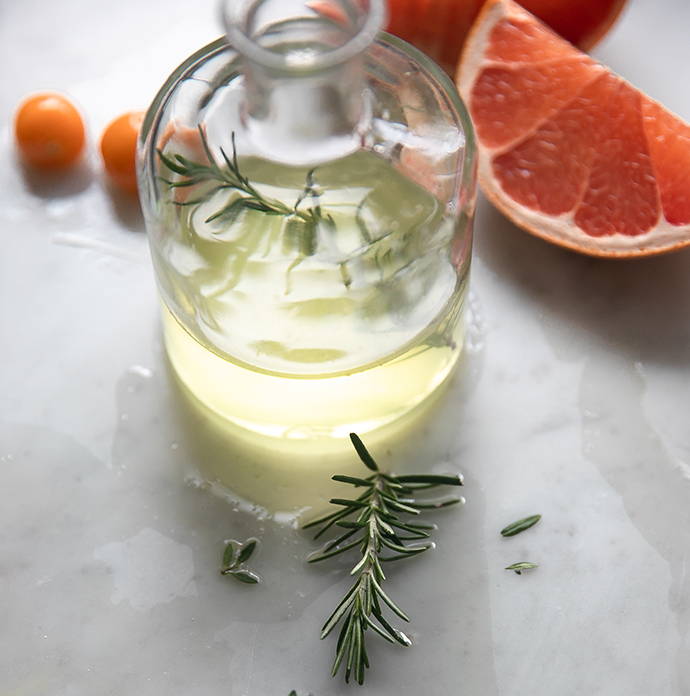 1 - In a pan combine the citrus peelings, herbs and sugar. Muddle together with a pestle or the end of a rolling pin. Allow to macerate in the pan for 1 hour.
2 - Add the water to the pan and bring to the boil. Reduce and simmer for 10 minutes until the sugar has dissolved. Take off the heat and leave the syrup in the pan for 20 minutes for the flavours to steep.
3 - When cool strain the syrup into sterilised jars or bottles.
4 - To assemble the mimosas, place a kumquat (optional) into each champagne flute. Add a tbsp of the simple syrup followed by 2 -3 tbsp of grapefruit juice and top with champagne or prosecco. Decorate with a sprig or two of rosemary or thyme and a small slice of grapefruit.
Notes
- The simple syrup will keep in an airtight jar or bottle in the fridge for 1-2 weeks.
- Mix the syrup with other drinks, such as vodka or gin cocktails.
- Add to water, or tonic for a refreshing non -alcoholic drink.
- The syrup can also be used to drizzle over ice cream or fruit desserts.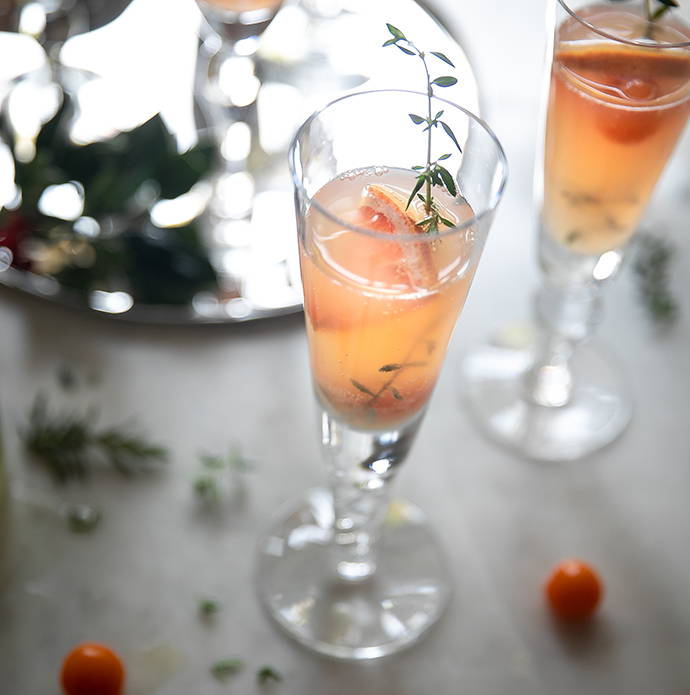 ---